It will soon be cooling down. That is little consolation, right now, when it's so hot outside that you can't even breathe and your body temperature goes up 5 or 10 degrees just by being outside for 5 or 10 minutes!
It's bad enough when you are on vacation in Ocean City, MD and you don't even want to try to attempt to walk out to the Beach! Whoever came up with the idea of "cooling stations" is to be commended! It is so wonderful that there is a place one can go to for relief from either the blazing heat or, in just a few short months, the freezing cold. If you find yourself without air conditioning, the local news outlets usually have either a website or an announcement of where you can go that's nearby to find some relief. Usually, the libraries or Community Centers are set up to be a cooling center too. You can find both a Library and a Community Center right here in either Berlin or Ocean Pines, MD. Also be sure to stay hydrated, which is MOST important! And please, please, please don't forget your four-legged furry companions too! Consider the fact that they have a built in fur coat and that's just unbearable! Jack and Jazz are SO grateful that they don't have to be outside when it's sweltering, but then again, they are 2 lucky boys who appreciate everything.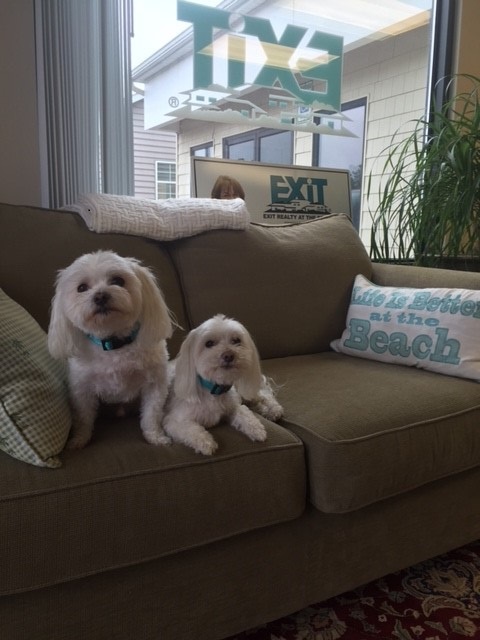 I heard the other day that the record low for here was 46 degrees back in 1964 -- 46!?! What a fluke that must have been -- in AUGUST?!? However, back in 1918 the high was 97 degrees. Climate Control? Seems more normal than 46! With that in mind, there are also many things to do in the area to help get through the next few days. Whether you are in Ocean City or Ocean Pines, whatever you do to cool off, be safe about it. If you have elderly family members or neighbors, check in on them to make sure they are okay. This heat wave won't last forever, it just feels like it. Pretty soon, everyone will be complaining about how cold it is - we will need to remember this streak of heat we are in right now, then maybe the cold weather won't be so bad to deal with. Be Safe & Be Cool!
Ocean Pines, MD Homes For Sale - Bernie Flax Broker/Owner, REALTOR®
I am very fortunate to live and own my EXIT Realty At The Beach office in the community of Ocean Pines outside Ocean City MD. I specialize in making your beach home ownership dreams come true! Text Bernie to # 85377 for current listing updates Call Bernie Flax @ 410-629-9070